Ports are getting smarter.
The application of cutting-edge technology to port operations is becoming a big part of the recent Fourth Industrial Revolution in the maritime sector. We can divide smart ports into two concepts - 'automated ports' that automate the logistics process from a mechanical aspect and 'intelligent ports' of which decision-making is supported by generating, collecting, storing, designing, and analyzing various materials. While automated ports(the level of automated port facilities) are being built rapidly in many international ports such as Rotterdam, Long Beach, and Qingdao, intelligent ports are still in the introduction stage.
The term '5G intelligent port' refers to ports that utilize the Internet of Things(IoT) and incorporate 5G high-speed mobile communication services while autonomously optimizing logistics flow by collecting and analyzing the location and status information of logistics resources such as cargo, ships, and workers. Once a 5G-based intelligent port operation system is established, it becomes possible to track cargo locations and operate artificial intelligence-based terminals. This is expected to dramatically improve the efficiency and safety of the port logistics system as a whole by improving container processing speed and greatly reducing safety accidents.
The Ministry of Oceans and Fisheries(MOF)
has been pushing for an "Intelligent Port Logistics Technology Development Project" since last year to increase the productivity of ports through 5G technology. The country's first port-only 5G communication network was established in Busan's new port in August 2020 by cooperating with SK Telecom, Busan Port Terminal, and others.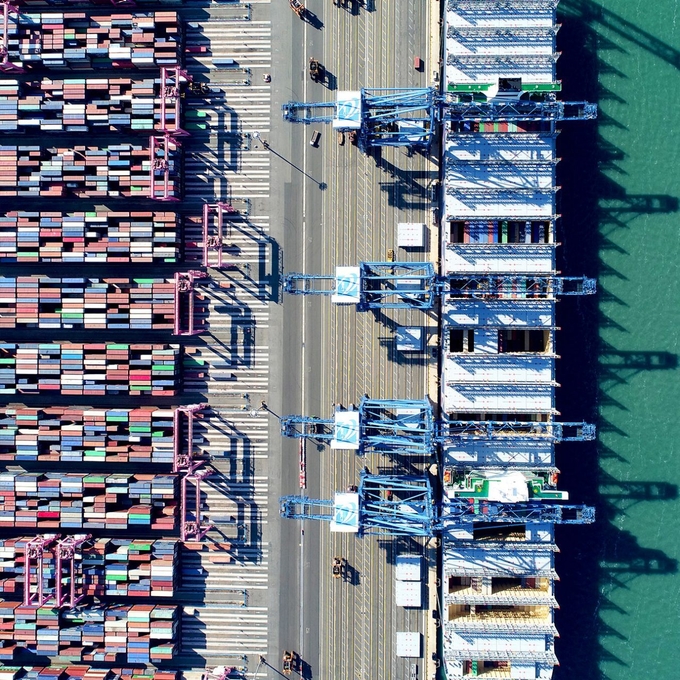 On October 14, MOF signed an MOU with Busan Port Terminal, SK Telecom, the Korea Research Institute of Ships and Ocean Engineering(KRISO), and IPLT(Intelligent Port Logistics Technology) project steering group to cooperate in the development of a 5G testbed for ports. Demonstration of the testbed service was carried out at this signing ceremony to compare the performance of intelligent CCTV and port IoT location detectors in 5G and LTE network environments.
It also checked drone and body cameras(an ultra-small camera attached to the body for security, etc.), as well as real-time video security control measures in the port and the communication status of real-time work processes among port workers.
MOF will open 5G intelligent port testbeds to small and medium-sized Korean companies and start-ups and seek joint overseas expansion in cooperation with related domestic companies. It plans to step up further to foster the ecosystem of the port software industry and actively cooperate with related organizations so that 5G can be applied to other ports as well.
------------------
미디어케이앤은 BVL(Bundesvereinigung Logistik : 독일연방물류협회)의 한국대표부로 양국간 물류비지니스의 가교역할을 하고 있습니다.